Contact Saxonica
For information on how to contact us for technical support, please see Support.
For all enquiries concerning the commercial versions of Saxon, please email Saxonica Orders.
The Saxonica team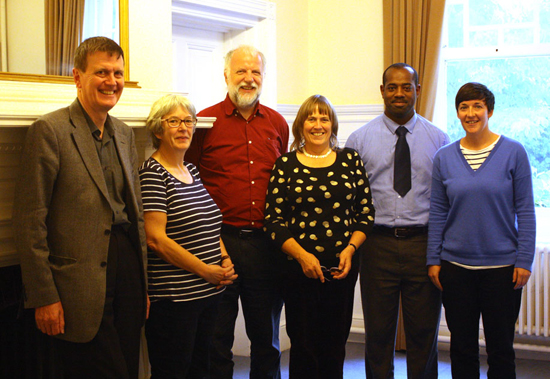 From left to right:
John Lumley
Sue Schreiber
Michael Kay
Penny Kay
O'Neil Delpratt
Debbie Lockett
Michael Kay is the original developer of Saxon. He founded Saxonica in 2004. His knowledge of XSLT and XQuery is second to none: he is the editor of the XSLT 2.0 and 3.0 specifications, a joint editor of XPath 2.0 and XPath 3.0, and an invited expert on the XQuery Working Group. He is also the author of the best-selling XSLT Programmer's Reference from Wrox Press, currently in its fourth edition.
Michael has over thirty years' experience in the software industry. After a PhD at the University of Cambridge, he joined ICL, eventually holding one of the most senior technical positions there. ICL is a $4bn software and services company, now part of Fujitsu. As well as managing Saxonica, Michael remains the lead designer and developer of the software.
Penny Kay is a founding Director of Saxonica and the Company Secretary. Penny handles banking, tax, insurance, legal and personnel matters for the company. Previously Penny was a Civil Servant in the British Civil Service.
O'Neil Delpratt joined Saxonica from a research project at the University of Leicester in 2010. He is a co-developer of the Saxon product, with specific responsibility for Saxon on .NET and the C/C++/PHP platform (Saxon/C).
Before joining Saxonica, he completed his post-graduate studies at the University of Leicester. His thesis title was "In-memory Representations of XML documents", which coincided with a C++ software development of a memory efficient DOM implementation, called Succinct DOM.
O'Neil regularly publishes and presents papers at various XML conferences and is an invited expert on the W3C XQuery Working Group.
Sue Schreiber joined Saxonica in 2010; having spent the majority of her career at ICL, now part of the Fujitsu Group. Sue is Saxonica's commercial manager; she deals with Saxonica's clients and contracts.
John Lumley joined the Saxonica development team in 2013. John has spent most of his career at the HP Research Labs in Bristol UK, working mostly in the field of Software Engineering; he subsequently took his PhD at Nottingham University. John has completed a number of specific projects for Saxonica including implementation of the EXPath library, tools for streamability analysis, and research into algorithms for optimized matching of template rules. He also implemented the XPath parser for Saxon-JS and is now working on a new front-end for the XSLT compiler written in XSLT itself, promising portability to new platforms such as Node.js.
Debbie Lockett joined the Saxonica development team in 2014 following post-doctoral research in Mathematics at the University of Leeds. Debbie has worked on performance benchmarking, the implementation of XQuery 3.1 features, and on developing the tools for creating Saxonica's product documentation. She is now the lead developer for Saxon-JS. Recent activities include prototyping of an XForms implementation based on Saxon-JS, performance improvements, and increasing the test coverage. Work on a version of Saxon-JS to run under Node.js is well advanced.
Contact
Phone:
+44 118 946 5893
Postal Address:
Saxonica
Chiltern Court
37 St Peter's Avenue
Reading
RG4 7DH
Berkshire
UK